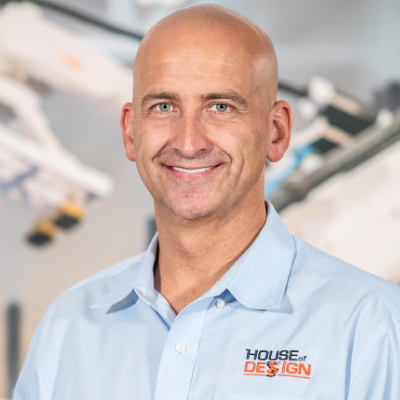 Shane Dittrich
Co-Founder
House of Design
info@ibleventsinc.com
About
The Future of Automation and Robotics in the Workplace
Thu, 04/21/2022 -
2:00 pm - 3:00 pm
Seminar Room 110B
Manufacturers are facing an unprecedented time with supply and labor shortages. How can automation and robotics help companies reduce lead times and attract new talent? Who should and who should not implement automation? The goal of this presentation is to discuss how businesses can implement automation and robotics in the workplace.
About Shane Dittrich
Shane Dittrich is at the forefront of analyzing and creating innovative industrial custom robotic applications. He has spent the past 9 years growing House of Design into one of the most successful and industry disrupting companies in the world. One of his strongest abilities is to take very complex, highly technical subjects and communicate them in simple, easy to understand principles. He is an inspirational leader who prides himself on working with people instead of working above people. In his role at House of Design, Shane was responsible for all sales and system concepting. He double annual gross every year since 2012. With his leadership House of Design has grown from the startup of 2 employees to over 100 in 2021. After graduating from Colorado School of Mines, Shane started his career at Boeing\Rocketdyne working on the International Space Station. In 2001 he began working for a ANTECH Corporation based out of Wallingford England. In this role he worked with several Nuclear Physicist to develop the first Tomographic Gamma Scanner. This equipment revolutionized the non-destructive assay field by allowing more accurate and visual representations of Uranium and Plutonium isotopes inside waste drums. He published and co-authored numerous papers related to the field of non-destructive assay. Shane was introduced to industrial robotics while working for JLS Automation in Boise Idaho. This is where he discovered his natural ability to see automated processes and how industrial robots could solve many of the difficult problems associated with manufacturing. Shane was then hired by a startup company in Boise Idaho, Transform Solar. Shane managed both the Automation Development Group and the Reliability Division. In 2012, Transform Solar closed its operation in Nampa, Idaho. Partnering with his team from the Automation Development Group at Transform Solar, they started House of Design. Shane has worked extensively with his community and sits on the ABB Advisory Council and the Northwest Nazarene Engineering Industry & Alumni Advisory Board. Shane enjoys being with his wife April, daughters Kelli and Brianna, and son Kolby. They enjoy traveling, being outdoors, building street rods, and skiing.